The open banking revolution is sweeping Europe however across the Pond, North American banks are moving more hesitantly, seeking to learn lessons from the experience of their European counterparts.

Financial institutions across the world are at a crossroads. New financial technology (FinTech) start-ups are shaking up traditional banking practices, offering financial services that were once the exclusive domain of banks, and dramatically improving customer experience.
FinTechs are already having a profound impact on how people manage their money and interact with banks and this is set to change even more as the technology becomes more widespread. How banks react to this new reality will shape their futures.
Two interconnected factors are driving the rollout of this new open banking era – the opening up of bank's application programming interfaces (APIs) to third parties, plus the broadening range of activities, such as shopping, carried out through social media platforms such as Facebook.
However, the pace of change is not uniform on both sides of the Atlantic and U.S. institutions can learn valuable lessons from the European experience.
A series of national and European Union regulations, particularly the Payment Services Directive 2 (PSD2), which comes into full effect on January 1, 2018, has marshalled thinking across Europe's financial capitals and led them to embrace the potential of the FinTech open banking phenomenon.
The PSD2 directive's aim is to bring about increased innovation into the banking industry, as well as empowering customers to achieve greater transparency over their finances. This is enabled through third party aggregators and FinTech innovators, which give customers the ability to access to account information, transaction details and a means of initiating payments directly from their banks accounts.
As a consequence, a host of innovative FinTech start-ups are utilising a variety of technological solutions, in particular artificial intelligence-powered software, to offer banking services that were traditionally the preserve only of major financial institutions.
Without this regulatory framework, progress across the Pond has been less uniform, with some U.S. financial institutions proactively seeking to maximise the potential FinTech have to offer, while others are more hesitant.
"The biggest challenge the [banking] industry has is really trying to redefine what it wants to be in the open banking landscape," said Ame Stuart, the Vice President of Digital Market Development in Financial Services for Capgemini.
"The most important aspect of this is: How does the industry position itself a little bit better to work with some of the emerging FinTech innovations to really try and differentiate themselves in a marketplace that is going to get increasingly competitive?"
AUTHENTICATE TO ACCUMULATE
Stuart explains that while the challenges to traditional financial institutions are many the solutions are seemingly infinite. The path that industry players ultimately take to solve for these challenges, however, will come to shape their role in a more competitive and robust financial ecosystem moving forward.
The two key challenges for banks in an open environment, according to Stuart, are liquidity and security. Open banking is intended to expedite financial transactions, but doing so will require a degree of financial liquidity that today's infrastructure was never equipped to handle at such velocity, while maintaining equal or greater levels of security and authentication.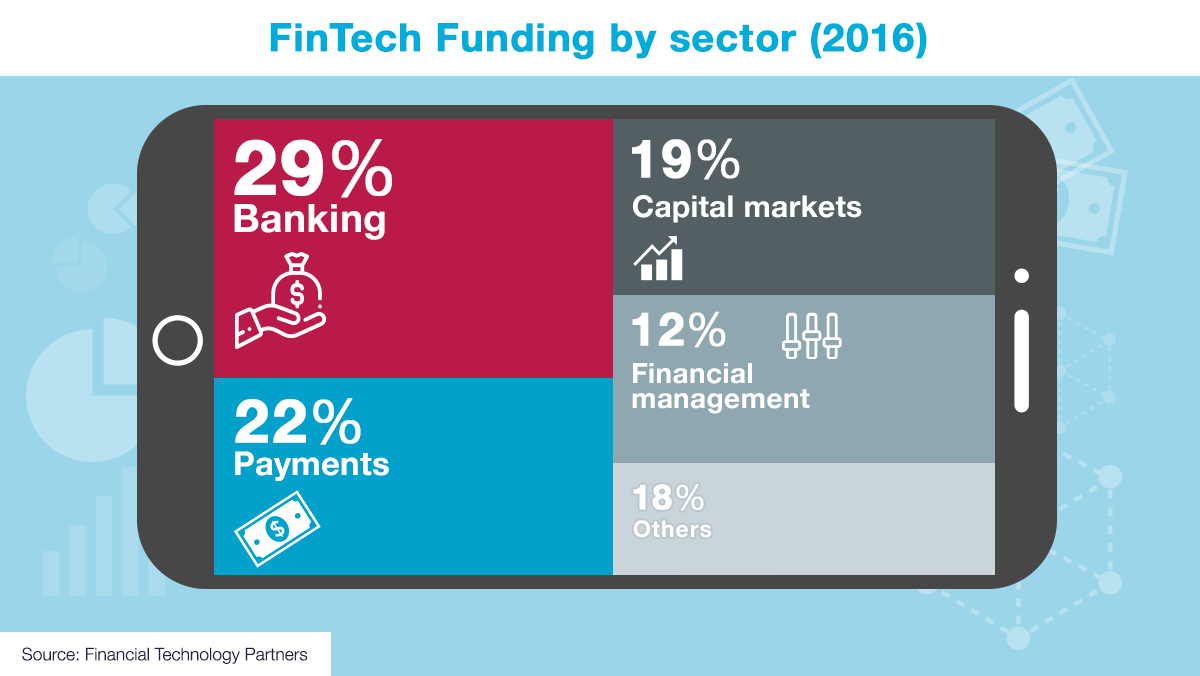 As a result many innovative FinTech companies are looking to provide highly secure authentication alternatives to passwords, biometrics, two-step authentication and other identifiers that slow the speed of transactions.
"If you look at PSD2 it's actually built into the regulation," says Richard Harris, the Head of International Operations at Feedzai, a high-speed data processing and security platform. "European regulators have said if you can meet certain levels of fraud prevention within your organization, and you can keep the fraud-to-sales ratio in your operations below certain thresholds, then you're exempted from strong authentications that are onerous on the consumer."
As a result of this statute, cutting-edge European security providers like Feedzai are quickly developing artificial intelligence-based tools that can authenticate consumers based on data that is becoming increasingly available as a result of a more open banking environment. Harris explains that everything from keystrokes to shopping habits and even verification of the user's device and browser can help confirm identity without requiring passwords or other intrusive security protocols.
"We can make that assessment that this really is this customer, you don't need the multi-step authentication process getting in the way of the customer making a transaction or do the operation they want to do," he says.
'FINANCIAL GPS'
Such ease of use innovations will be vital in an open banking environment, where experts believe banking will be more defined by unscheduled interactions.
"These financial interactions will occur based on a consumer's 'financial GPS' that uses previous behaviors and expected changes in the consumer's financial roadmap to prompt notifications, movement of funds and highly personalized recommendations," explains Jim Marous, co-publisher of The Financial Brand and owner and publisher of the Digital Banking Report.
"This definition of Personal Financial Management (PFM) is much different than today's 'rear-view mirror' perspective."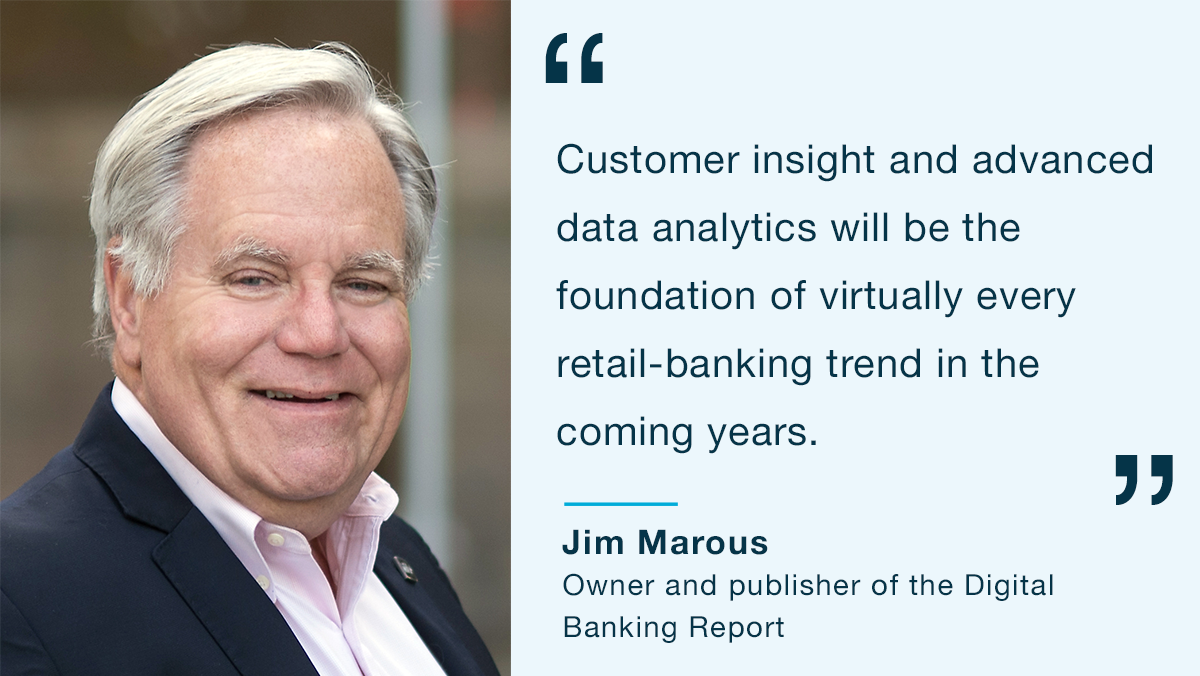 © Jim Marous
In order to be able to accurately calibrate a customer's financial GPS, institutions will rely on detailed analysis of customer habits, continues Marous.
"Customer insight and advanced data analytics will be the foundation of virtually every retail-banking trend in the coming years. From removing friction from the customer journey to improving multichannel delivery and exploring the use of open APIs, data is the fuel that will power these initiatives."
Marous adds that transaction speed and authentication will soon become less of a competitive differentiator and more of a competitive necessity, as seamless, unscheduled transactions become a cornerstone of open banking services.
"If your bank doesn't get that consumer interaction authentication process right, it's a much more competitive landscape to hold onto your customers," adds Harris. "It will be hard to create this sort of banking as a service platform and make the experience good. Those banks could potentially lose customers, and you're seeing that already happening in Europe."
While some have speculated that PSD2 could be trouble for major banks, Harris doesn't think such an outcome is likely. Instead he believes the ecosystem will become more fragmented, and encourage more banks to partner with FinTech startups. "He who has the customer base, controls the banking space. That's what it's all about," he says.
While open banking does open the door for major Internet brands such as Facebook, Google and Amazon to enter the banking space, Harris believes the level of regulation and compliance in the financial industry will keep them from competing directly with traditional financial institutions.
"Banks will effectively become more of a marketplace; they will still provide those services, but they might be doing it through a customer portal that's owned by another entity entirely," says Harris. "They'll still provide the services and make the money on those services."
BANKS AS PLATFORMS
In other words, while you may soon be able to buy a mortgage through Facebook or Amazon, a major bank is still issuing the loan. Even if there's less direct interaction with the brand, Harris says financial service providers remain a vital part of an open banking ecosystem.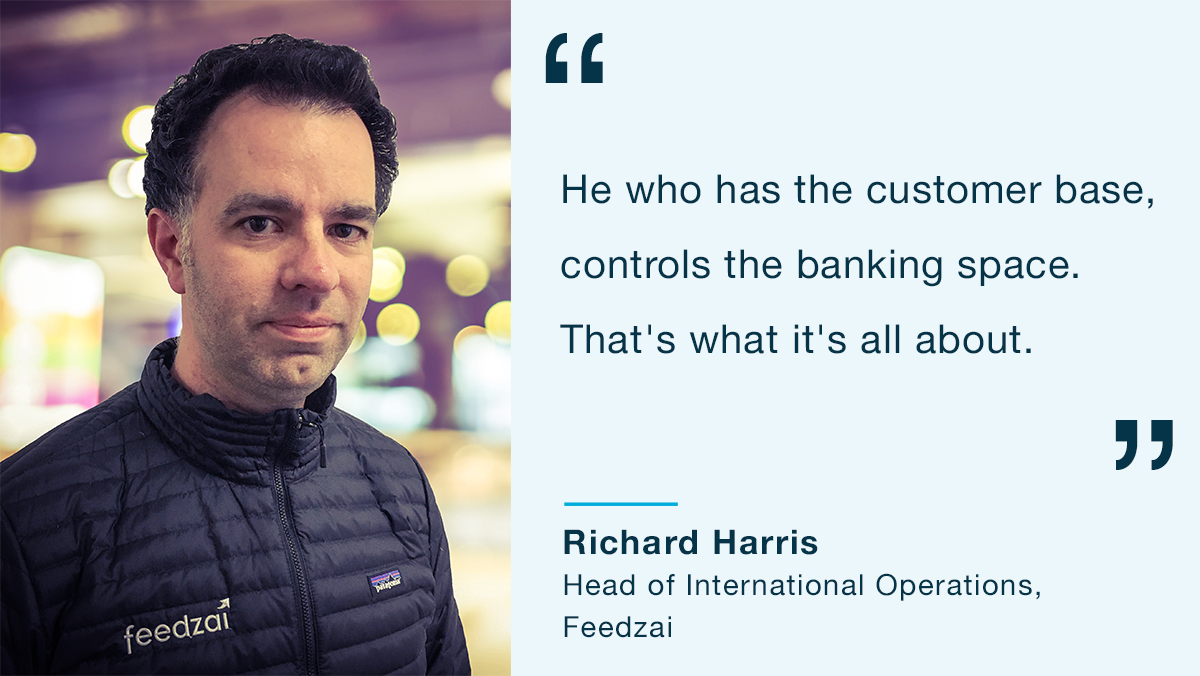 © Feedzai
That's how many banks envision their role moving forward; as a platform that enables customers to access a wider array of services including those the bank provides itself alongside those it does not.
"In the wealth management space, if I'm already a client of a challenger bank and have gone through the [sign up and verification] process, I want to have access to other offerings without having to onboard through another product," said Toby Triebel, Wealthsimple's CEO for Europe.
"It is up to Wealthsimple and the challenger bank to integrate sufficiently, to use each other's data to make the user experience better. We're just at the beginning of these types of partnerships in Europe."
Amid this rapid transformation in Europe, what will be the impact in North America?
Some commentators believe American and Canadian banks have no incentive to open their APIs to third parties, but others suggest that they will have to follow suit in order to remain innovative and relevant in the global financial ecosystem.
"There is already a fair amount of data that is being shared [in North America]," says Triebel, "but I think that data is not widely accessible to everyone and true [open banking] is very far away."
Triebel explains that the Securities and Exchange Commission, America's financial regulator, tends to be more reactive than preventative. He believes that the United States mandating open banking is not in the near future and would present itself in a different framework from PSD2 and the EU's Open Banking Standard.
Furthermore, others don't believe American financial institutions are going to welcome open banking until the results from Europe's experiment are clear.
"If I were a U.S. bank I'd continue to sit on my hands and wait to see what happens [in Europe] before I change the nature of my entire business," said Zack Miller, founder of FinTech news and information site Tearsheet, which was recently acquired by Digiday Media.
"They run the risk of moving too slow, they run the risk of sitting on their hands, but ultimately there really isn't an incentive to move quickly. I just can't see them being left behind by anything."
WHERE'S THE INCENTIVE?
Miller explains that even though they've shown willingness to experiment with FinTech solutions in the recent past, American banks are conservative institutions by nature, and the risks associated with open banking may seem too great measured against the potential rewards.
"It would require a government intervention the way it did in Europe," he says. "You might see some individual institutions adopt it, but in terms of a wholesale move in that direction it would require government intervention."
Miller adds that while FinTechs may be more able to experiment in Europe's open banking ecosystem, North American banks have the resources and customer bases to maintain the status quo "for decades." The only danger he imagines is a "death by a thousand paper cuts," with incremental growth in other parts of the world slowly but surely outpacing North America.
Should the services provided by institutions in other jurisdictions begin to surpass services available to American consumers, however, some believe they will demand a financial ecosystem that more similarly resembles Europe's.
"I think PSD2 and the other open banking regulations going on will ripple back into the U.S.," says Phil Dunkelberger, CEO of Nok Nok Labs, a U.S.-based online security and authentication provider. "When this happens in Europe it will force a lot of American FinTechs to do business there."
Dunkelberger says that while Silicon Valley remains the epicenter of financial technology innovation, an ecosystem that is more open to third party providers might encourage some to move across the Pond.
While the potential affects of open banking are still being debated it's hard to overstate the significance of the transition. PSD2 will usher in a new era of banking in Europe, forever changing how its citizens interact with their money, with the potential to spread around the world.
As with any transition of such scale and significance there will be opportunities as well as risks. How financial institutions choose to approach the prospects and challenges of an open banking environment will ultimately lay the foundation for the next generation of banking.
Challenge and opportunity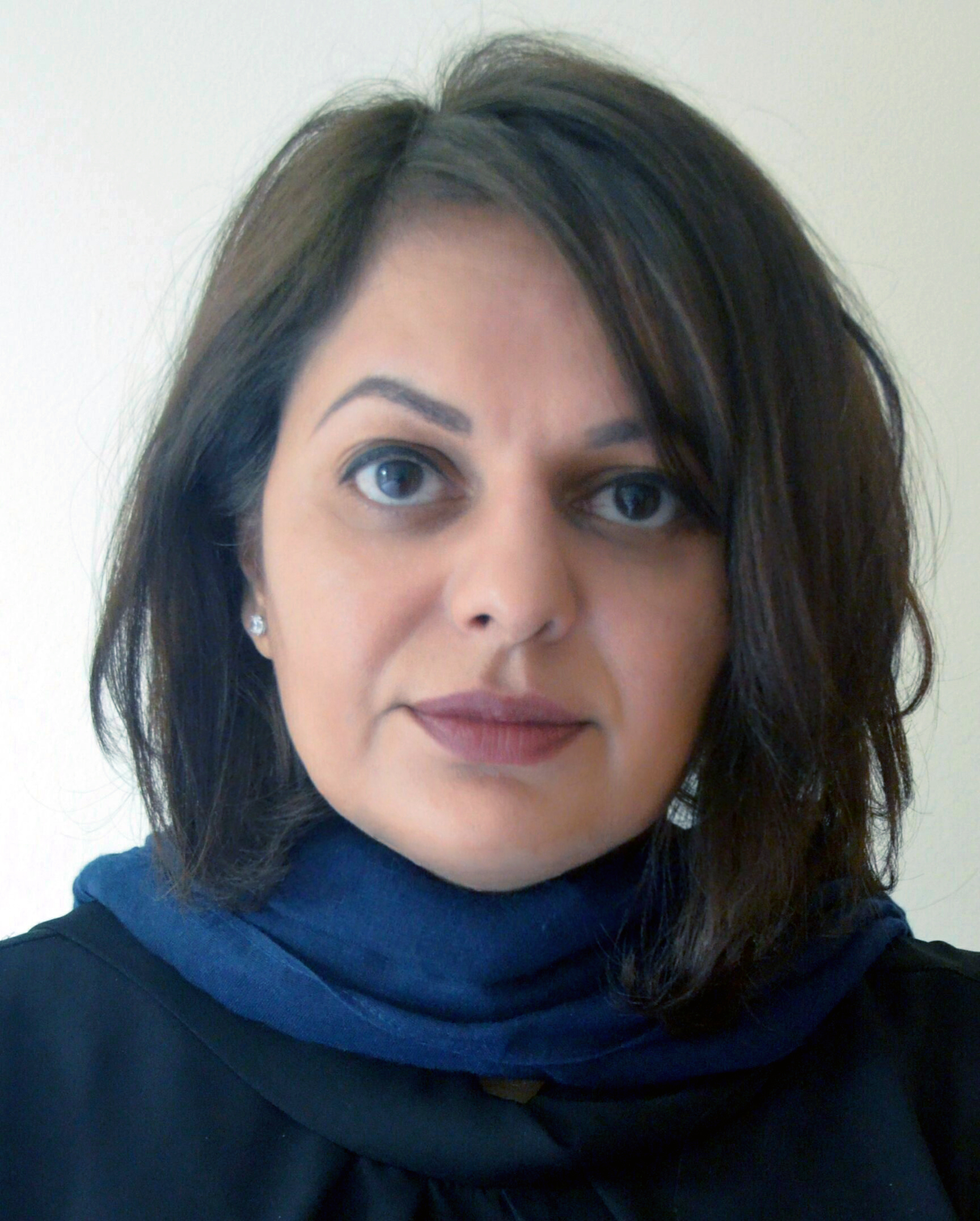 Ame Stuart – Vice President of Digital Market Development in Financial Services, Capgemini.
© Capgemini
We are in the midst of a defining moment for financial institutions, as the decisions they make today will come to shape their role in an open banking future.
The European Union's Payment Services Directive 2 (or PSD2) will require EU banks to open their data to third party vendors before January 2018, though many have already done so. This significance of this action cannot be overstated, as it will force a reorganizing and redefining of financial services as we know it. The biggest challenge the industry faces now is defining what it wants to be when the dust settles on this new order.
In the PSD2 era, payments will begin to move away from traditional instruments like bankcards and paper cheques to technology aggregators that are licensed to process transactions. Major technology firms that aren't traditionally competing in the FinTech space, like Google, Amazon and Facebook, are licensed to operate as financial aggregators and are well positioned to become a primary platform for moving money in the future.
Financial institutions have traditionally had the upper hand on their FinTech challengers as a result of their size and customer base. But when you consider that Facebook has 1.8 billion unique logins per day and a license to enable payments, you can begin to understand how easily the social network could become a major force in the financial world, virtually overnight.
This should not be considered a cause for alarm for banks, however, as there will be significant opportunities for incumbents to thrive in the open banking world as well, largely as a result of new alliances and business models.
NOT INSURMOUNTABLE
Consider a bank that has traditionally operated in a financial services marketplace and offers a singular mortgage product. With open banking partnerships they could evolve towards providing an entire suite of services, transitioning their role to cover anything related to moving homes. They could, for example, provide customers with tailored research on various neighborhoods of interest, locate a property, find the right mortgage product and organize the movers, decorators and plumbers, each service bundled with other partner services at a discount.
Now extrapolate that idea into automotive leases, student loans, insurance and risk management and every other service banks have traditionally provided, and you begin to understand the potential change that lies ahead.
These opportunities, however, will pose two key challenges, one of which is financial and the other relates to security. On the financial side, open banking will necessitate a degree of financial liquidity that its underlying infrastructure was never equipped to handle at such a velocity. On the security side, open banking poses challenges around virtual authentication and permissions as well as data security to protect both customers and financial architecture.
While there certainly are challenges to overcome they are anything but insurmountable. They do, however, require very careful consideration, as the way in which financial institutions approach these challenges today may come to define their role in the financial ecosystem moving forward.